Best Wallet Brands For Men In 2020
Finding a new wallet is no easy task. The choices are endless, and it took time to get your old one just the way you wanted it.
However, sometimes there's no other option, and you need a new wallet.
The top 10 best wallet brands for men in 2020 have some incredible choices, so you're bound to find something that meets your needs.
These are the top wallet brands we'll be covering in this article (feel free to click on any of them for more information on that brand specifically).
Mighty
The Mighty Wallet by Dynomighty Designs is aptly named. This wallet has absolutely no stitching. Each one is made from a single sheet of Tyvek. Tyvek is a man-made moisture resistant paper-like material, so each wallet is folded into shape. It's completely recyclable, eco-friendly, and vegan-friendly. This material is also really durable and long lasting. The Tyvek also means that the overall design is very slim, and not as bulky as some other materials can be.
It has two compartments in the top pocket, as well as credit card and business card slots in the front pocket. They're available in so many different designs, from a classic leather look to your favorite superheroes and pop culture designs. They also feature designs from guest artists, with limited edition wallets. There's literally something for everyone.
Fossil
Fossil is known worldwide for their products. They're an American company, and their focus is on an updated classic, vintage look, with a modern twist. Their men's wallets are stylish and affordable. They offer a wide range of designs and functionality, but the most popular are the bifold, trifold, and card case.
The bifold wallets have different functions, but most designs have a number of credit card slots, a clear ID window and a pocket for bills. They're usually made from 100% leather, so you can always be sure of the durability, and quality.
The trifold wallets have three sections, rather than the two that bifold wallets have. Fossil's trifold wallets are also made from genuine leather and have a man-made lining material. They have six credit card slots, a clear window ID pocket, and a large pocket for bills. These wallets fold closed and don't need a snap closure, so it won't catch as you put in it your pocket.
The card cases are among the most popular of the Fossil wallets. They're made of genuine leather and have six card slots, as well as a money clip. In some designs, the money clip can be removed.
Tumi
Tumi products are possibly the most durable on the market. Featuring stylish design, and intelligent security measures, these wallets stand out from the crowd. Tumi uses high-quality materials, such as genuine leather, and a durable ballistic nylon, so you know that your wallet will be around for years. Most of their wallets also use their proprietary ID Lock technology, so all your personal information is completely protected. They have a number of designs, including bifold, and card cases, but one of the most interesting is their L-fold wallet. It opens out in an L shape and has six credit card slots, bill pockets, and an ID window. It's made from their ballistic nylon, with a chic leather trim. The modern style of this wallet makes it an amazing accessory, no matter where you are.
Magic
The Magic wallet is stepped away from the traditional wallets of the past. It opens and stores in several ways, each like magic. It's also been called a flip wallet, and it's not a new design. Although, today's wallets have a few more features than the originals. They're easy to use and have a slim design, so it will fit in your back pocket with ease. As well as the impressive ability it has to flip, and open from either side, it does tend to have a larger storage capacity than a standard wallet. Some designs also have RFID features, so you can keep your personal information safe as well. The trick with this wallet is that when you put your money into it, it ends up behind the secure straps, which is a great way to impress your friends, family, and everyone you meet.
Calvin Klein
Calvin Klein is one of the most well-known names in fashion. If you're looking for an on-trend wallet from a well-known brand, then CK will have one for you. Their most popular designs are bifold wallets made from genuine leather. They have multiple card slots, bill pockets, and some have a coin section, with a fastener, so even your loose change is secure. Calvin Klein wallets are cool, and classic, while remaining on trend, so you always look fashionable. They come in a presentation box and have the Calvin Klein logo embossed into the leather.
Guess
Guess are another household brand, with a reputation for quality and style. Bifold wallets are one of their best sellers, with multiple card slots, bill pockets, and coin sections. They offer genuine leather wallets, as well as trendy wallets made with combined materials. The Guess logo is usually made from metal and is featured on the front of the wallet.
Another of their bestselling wallets has a more square design. It has five card slots, a coin section, and bill compartments. Like their bifold wallets, these wallets have a masculine, leather design, and some have a retro, rustic look.
Alpine Swiss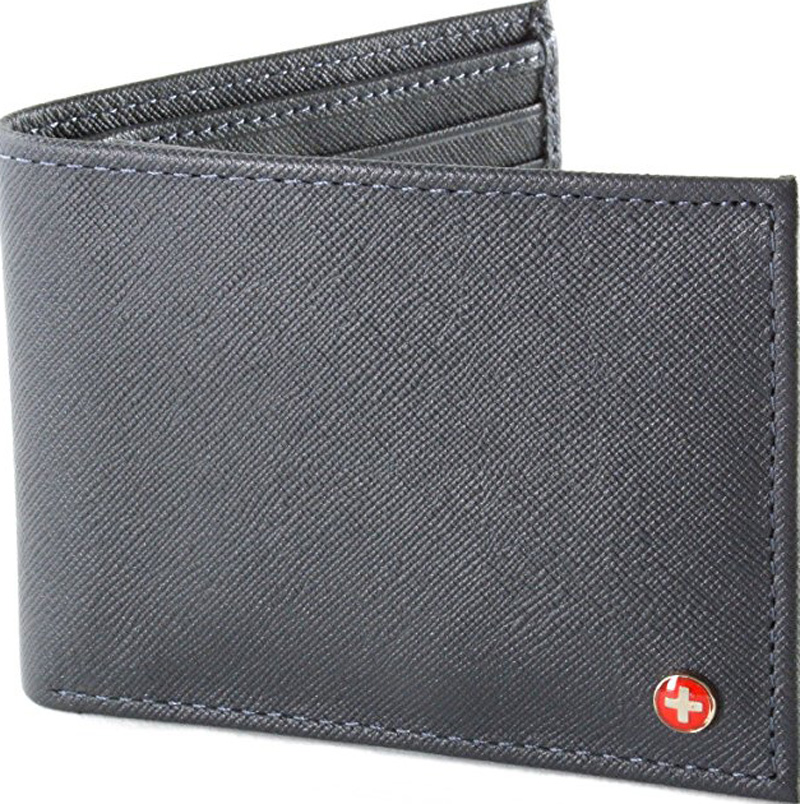 Alpine Swiss are newer to the scene than some of the other brands, but they definitely have a flair for style. Their wallets are classically stylish, made from leather, and are incredibly durable. They offer a number of designs, including bifold, trifold, and bifold with a flip up ID window. The flip ID window is removable, and the wallet has seven card slots. Some of the designs have RFID technology which helps keep the data on your credit cards encoded, and safe from hackers. Alpine Swiss wallets are affordable and made from good quality leather, so they not only look good, but they feel good too. They're durable, and long-lasting, with a rugged construction. Most of their styles feature a small button with their logo on the front of the wallet.
Ezgo
Ezgo has two designs – the original, and the slim. The original comes in a choice of six colors and has a really modern design. It's lightweight and has no moving parts. It has a card locking system which holds your cards in place and can store up to eight cards. It can also hold 12 to 15 bills and has slots for on standard SD cars, and two micro SD cards. It's made from a durable, man-made material, which is recyclable. The design of the Ezgo means that it stays slim, even when it's at its storage capacity.
The slim version is still sleek and modern, but also has RFID technology, and is made from a high-quality leather, and is lined with suede. The slim Ezgo looks a little more elegant, where the original has a very modern, more funky look. It can store up to eight cards, 20 bills, SD cards, keys, and pretty much whatever else you would need to keep in your wallet.
Dockers
Dockers have repeatedly impressed in the wallet market, with their style, quality, value for money, and functionality. Most designs feature leather construction, slim lines, and durability. Bifold and trifold wallets are the most popular designs, with both offering multiple card slots, and bill compartments. Some styles have RFID technology, which keeps your personal information safe. Dockers also offer an extra capacity style, which has more storage and can maintain a slim look, even when full. Some styles have a separate ID window, which means that you can store your ID and more cards. Their wallets have a classic elegant design, so can be used with both casual, and formal wear.
Kenneth Cole
Kenneth Cole wallets are really popular, as they're long lasting, great value for money, and have an elegant classic style, with a modern flair, that can go from the bar to the boardroom with ease. They offer both bifold, and trifold designs, and both have multiple card slots, bill compartments, and are made from high-quality leather. Most of their designs can be washed by hand, and have an ID window. Some styles have RFID technology, and one design comes with a very practical multi-tool. A few of the wallet style have extra capacity storage, which means more card slots, bigger bill carrying capacity, and hidden pockets. Most designs don't have a closure system, which does mean that they can't catch on your pocket, and keeps them slimline and easy to put away. Most of the Kenneth Cole wallets have an embossed logo plaque on the front of the wallet and come with a presentation gift box.